What is an Ecotarian?
Being an Ecotarian is far more than being a vegan, a vegetarian, or a raw foodist. An Ecotarian is someone who eats for the sustainability of their body and their planet. An Ecotarian is acutely aware that great changes are happening on planet Earth. They realize that we must align with our planet; that we are made up of air, fire, earth, and water and whatever shifts and changes our planet is going through are the same shifts and changes that we are going through.
An Ecotarian realizes that our planet's environmental crisis is but a mere reflection of our body's environmental crisis; that we too have been burning the wrong types of food for fuel. An Ecotarian realizes that we have done incomprehensible harm to our planet; that her sustainability is being threatened; that almost every second we are being asked to come face-to-face with yet another apocalyptic tide that could change the very face of planet Earth. Ecotarians realize that we must choose to walk a new path; a new way of being in relationship with our body, our planet, our environment, with each other, and with the intelligent "life force" of God that spins our very existence.
Download the First 2 Chapters of Toni's Revolutionary new book, Ecotarian Diet.
What we have long called disease is nothing more than a series of ecological breakdowns caused by an internal acid rain. Change the food you're burning for fuel and you'll not only transform your life, but also the life of your planet. There is no separation. Discover the vast possibilities!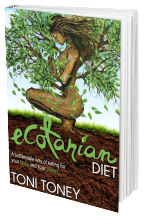 Tell A Friend
Spread the word. Tell your friends about Toni Toney and the Ecotarian Revolution!